Topic: societal security
» Publications - drafts
Burgess (forthcoming) The future of security research
» Notes on European political culture
Rapporten til 22. julikommisjonen har blitt rettmessig roset som et omfattende faktagrunnlag som danner utgangspunktet for reform og bedring.
Men det er påfallende at kommisjonens rapport og debatten omkring den forstår samfunnets sikkerhet som en teknisk utfordring. Rapportens kritikk handler om veisperringer, radiosamband, IKT systemer, helikopter og båter, og politiets prosedyrer. Svikt i sikkerhet skyldes, i rapporten, svikt i disse systemene. Forbedringspotensialet for samfunnssikkerheten i Norge skal ligge i påkosting av infrastruktur, oppgradering av kommunikasjons- og IKT-systemer, og revidering av politiets rutiner.
Kommisjonen bruker « samfunnssikkerhet » som om samfunnet var en gjenstand blant gjenstander, noe som kan og bør sikres. Men samfunnet er en levende, handlende og reagerende aktør. Samfunnet er ikke bare mottaker av sikkerhetstiltak, det er også med på å skape sikkerhet.
Samfunnssikkerhet har altså en dobbeltbetydning. På den ene side dreier det seg om samfunnets sikkerhet, om et samfunn som er verdifullt og sårbart, og har behov for beskyttelse gjennom statlige etater som politiet. På den andre side dreier det seg om samfunnets sikkerhet, om den enestående type sikkerhet som kun samfunnet kan gi.
Samfunnet er ikke lik staten og er heller ikke avhengig av staten for sin sikkerhet. Tvert imot, det er trolig i stor grad staten som avhenger av et velfungerende, solidarisk, og tillitsfullt samfunn for den type politiske kontinuitet som kjennetegner Norge.
Dette innebærer at samfunnet ikke bare er et beskyttelsesobjekt for en teknokratisk stat, men en sikkerhetsaktør, og håndtering av samfunnssikkerhet er et samspill mellom statens tilgengelige sikkerhetstiltak (infrastruktur, kommunikasjons- og IKT-systemer, og politi) og samfunnets verktøykasse (verdier, tradisjoner, samhold, solidaritet, kultur, osv.). At samfunnet ikke er et passivt, livløst objekt som kan beskyttes som en juvel i en skrin, men en aktiv, reagerende aktør forklarer også de til dels negative virkningene av tekniske sikkerhetstiltak gjort i samfunnets navn (ubehag, mistillit, bekymring, frykt og til og med usikkerhet).
Da statsministeren dagen etter terrorangrepet snakket som å svare på terror med mer demokrati og mer åpenhet var det ikke bare for å minne oss om de gode liberale verdiene. Det var fordi demokrati og åpenhet faktisk gir sikkerhet. Ikke sikkerhet som beskyttelse mot mord og ødeleggelse, men samfunnssikkerhet som samfunnets evne til å verne om sin egen stabilitet og kontinuitet. Det er nettopp dette vi har opplevd nå i ett år etter 22. juli.
Hadde ikke det norske samfunnets sikkerhet vært robust og stabil så hadde regjeringen for lengst måtte gå av. Dersom usikkerhet og frykt hadde vært resultatet—i tillegg til det forferdelige menneskelige tap—hadde terroristen vunnet slaget. Men samfunnet og samfunnssikkerhet er robust i Norge. Og vi bør gå forsiktig frem med å sammenstille samfunnets sikkerhetsbringende evne med politiets effektivitet.
[Speech held for the European Security Research Programme Workshop Security research and Europe's societal challenges: What do citizens want?, Oslo, 8 June 2011].
1
Among the many successes of the European Security Research Programme is the growing wisdom and insight into what security actually means in our day. Most prominently this can be seen in the growing awareness of the importance of society in the security equation.
European research in the framework programmes has long been aware of the important link between science and society. Indeed the last few programmes have developed a dedicated rubric for this function alone.
Yet among the new insights that have emerged through the first half of the 7th Framework Programme is the meaning of security in society and the notion that security is in fundamental ways societal.
What does this mean? An answer to this question begins by asking another, even simpler, question: What does it mean to make Europe secure? [ More… ]
A completely unique conjuncture of events has brought a new wave of undocumented migration to Europe and with it a new wave of principled challenges to European responses to it.
There is widespread awareness in Europe and elsewhere of the tidal change set off by the Jasmine Revolution in Tunisia. Now overshadowed by hyper-mediatized events in Egypt, the ousting of Tunisia's longstanding president Zine el Abidine Ben Ali on January 14 was in some ways more decisive and dramatic than events in Egypt, though less networked. It is however Egypt, long-time ally of the United States, neighbor to Israel, perhaps the closest we can find to an Arab super-power, stole the show with its facebook ousting of Hosni Mubarak.
Yet while the mass manifestations of democratic aspirations in Egypt lead Euro-Americans to wipe a tear of self-affirmation, the democratic aspirations of Tunisians has quickly morphed into a security threat to Europe. Built on lofty principles, the European Union talks the talk, and is once again called upon to walk the walk of migrant and human rights. [ More… ]
» Publications - briefs & opinions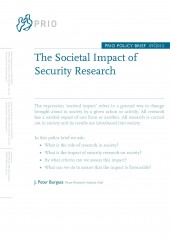 The societal impact of security research
PRIO Policy Brief 9/2012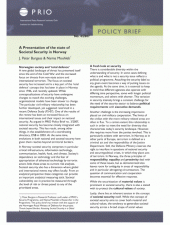 Presentation of the State of Societal Security in Norway
PRIO Policy Brief 9/2007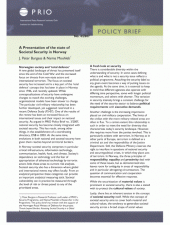 Societal Security: Definitions and scope for the  Norwegian setting
PRIO Policy Brief 2/2007
(with Naima Mouhleb)
» Headlines
Nordic states and societal security, Stavanger, Norway, 25 May
» Talks - public lectures

What is societal security?
Workshop Security research and Europe's societal challenges: what do citizens want?, Oslo, 8 June.
Download
» Talks - academic presentations
Norsk samfunnssikkerhet i en global verden: Kritisk blikk på norske myndigheters bruk av samfunnssikkerhetsbegrepet
Presented at the SORISK final workshop
Stavanger, 16 September
Download